Skip to Content
8 Dining Room Set Inspirations for Your Home
The design of your dining room says a lot about you. Some people want classic formal sets, while others prefer a casual, eclectic vibe. From dark, alluring wood to mix-and-match dining room chairs, the possibilities are endless. Whatever your tastes, the purpose of a dining room remains the same—to share meals, create memories, and enjoy lively conversations. Draw inspiration from the top dining room trends of 2023 to help make your dream dining room a reality.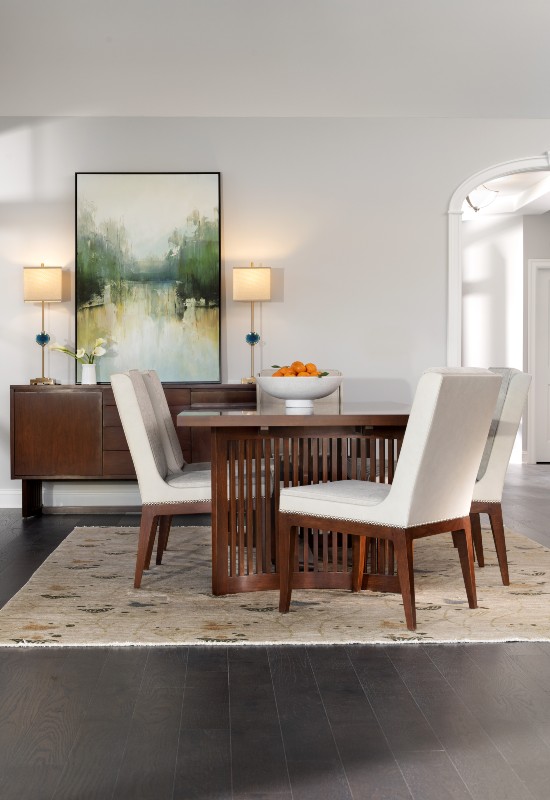 1.    Embrace the Dark Side
Darker wood furnishings are making a comeback this year, adding an aura of maturity, sophistication, and warmth to your dining room decor. Their rich, deep hues contrast stunningly with light-colored walls, while their striking grains and textures imbue your space with character and depth. Whether it's a stately mahogany dining table or an ebony sideboard, these dark wood pieces are much more than functional dining room furniture—they're bold style statements.
2.    Add a Touch of Glamour
While functionality is key for any dining room, you should also feel free to inject some glamour into the space. 2023 has seen a rise in glamorous dining room sets that marry practicality with splendor. Think plush, velvet-upholstered dining room chairs, grand chandeliers casting a warm, inviting glow, and sleek glass dining tabletops reflecting flickering candlelight. Even smaller details, like gold-accented tableware or crystal centerpieces, add an opulent touch to your everyday dining experience.
3.    Return to the Grand Table
As we rekindle the joy of large family gatherings in 2023, long dining room tables are taking center stage once more. A larger table not only accommodates more guests but also enhances the feeling of togetherness. Pair it with an array of comfortable, stylish chairs and watch as the lively banter flows across your grand table, strengthening bonds and creating treasured memories.
4.    Go Coastal
Want to drift into the serene ambiance of coastal-themed decor? Start with a grey, weathered wood table to anchor your beach-inspired dining room. Complement it with linen slip-covered chairs adorned with blue and white striped throw pillows to evoke a laidback coastal vibe. Then, hang blue abstract wall art that alludes to the ever-changing seascape. Complete the look with glass or ceramic vases filled with seashells, driftwood, or palm leaves.
5.    Mix and Match
Who says all your dining room chairs have to match? An emerging trend in 2023 is to mix and match patterns and textures. Combining different dining room chair styles, materials, and colors brings a dynamic, personalized charm to your space. Feel free to get creative by mixing a few vintage chairs with modern ones or wooden chairs with upholstered ones. This daring juxtaposition creates a vibrant, eclectic dining room set that's undeniably yours.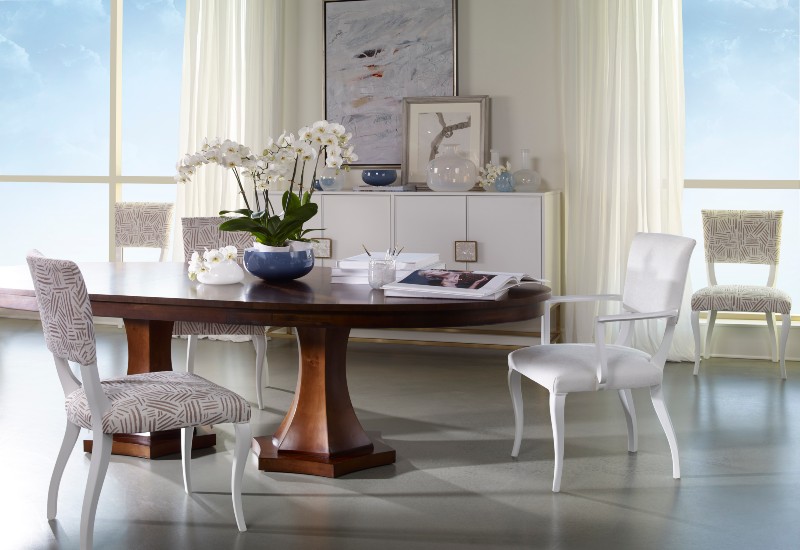 6.    Give the Nod to Nature
There's an undeniable allure to dining amidst nature's beauty. You can't always eat outside, but you can certainly incorporate natural elements into your dining room decor. Consider a live-edge wooden table with unique contours hinting at its life as a tree. Rattan or wicker chairs add an organic touch, while a centerpiece of fresh-cut flowers breathes life into your space. Opt for a color palette of earthy hues and botanical prints, and watch your dining room transform into a serene, nature-inspired oasis.
7.    Add Bold Colors
The dining room is a fun place to include bold colors. Consider painting one wall a striking shade—perhaps midnight blue or lime green—to serve as an accent wall that stands out while still complementing the rest of your decor. You could also opt for colorful dining room chairs or a brightly patterned rug. Make your dining room a feast, not just for the taste buds but also for the eyes!
8.    Let There Be Light
When it comes to dining room ideas, remember that the right lighting can make all the difference. To go from ordinary to extraordinary, consider hanging a dazzling chandelier or a row of pendant lights above the dining room table to provide a focal point and cast a soft, inviting glow over the space. For ambient lighting, install dimmable wall scones or color-changing cove lights. Such additions create an atmosphere of warmth, intimacy, and friendliness.
Contact Central Ohio's Preferred Dining Room Furniture Store
At Studio J, we are passionate about transforming your home with fine furniture that reflects your unique taste and lifestyle. We supply dining room furniture in all kinds of materials and designs, from rustic and traditional to art deco and mid-century modern. Our team of interior designers are experts in their field, ready to help redefine your dining experience. To browse our fine dining room furniture collections, please visit us in Dublin, OH. You can also call us at 614-389-2054 or fill out our online contact form for more information.