Skip to Content
Dining Room Furniture in Central Ohio
Central Ohio's Preferred Dining Room Furniture Store
Are you renovating your entire home? Perhaps you've decided to make family mealtime a priority. Both of these are excellent reasons to redesign your dining room. Whether you're making small updates or planning a complete overhaul, Studio J has the furnishings you need to make your space stand out. We're among Central Ohio's top furniture stores for dining room furniture, and we'd be happy to help you choose the perfect pieces for your space. Browse our brands online then stop by our showroom to check out our inventory in person.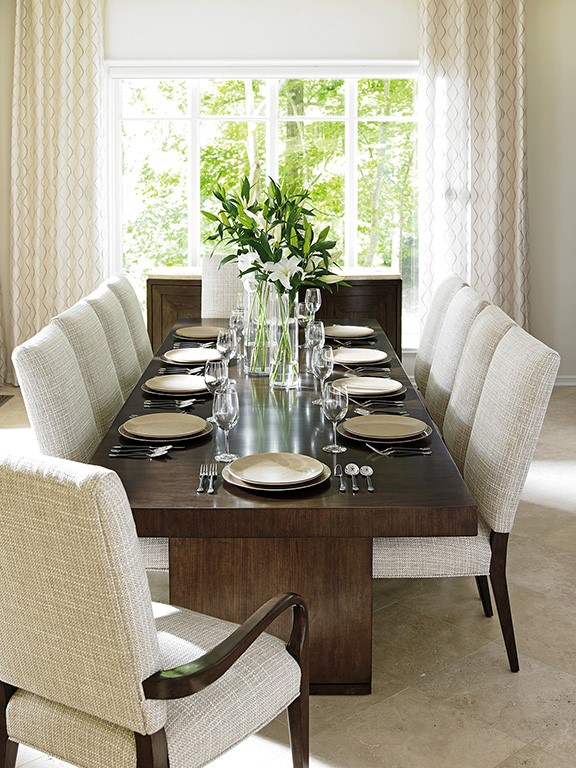 Choosing the Right Dining Room Furniture
Make your dining spaces both stylish and practical with a little help from Studio J! It can be a challenge narrowing down your numerous options for dining room furniture. Our team will listen to your needs and preferences and recommend top-tier furniture for your lifestyle. Here are just a few things to consider helping you choose the perfect furnishings:
Size:Be sure to measure your space and know how many people you would like to seat in the space. After all, you wouldn't want to purchase a new table only to find it doesn't fit or that you need more seating!
Style:Dining room furniture comes in all styles, from traditional and rustic, to sleek and modern. Fortunately, you'll find all kinds of different styles on the floor at Studio J. What you don't see can be ordered.
Budget:Studio J has pieces that fit many price points.
A Vast Selection of Materials and Designs 
The dining room furniture that works for one home may not work for yours. Luckily, you can find all kinds of materials and designs in our inventory. Simply let us know what kind of furniture you're interested in, and our team will point you in the right direction. Our dining room furniture is tailored to a world of styles, including:
Rustic
Modern
Mid-century modern
Art deco
Chic
Urban
Minimalist
Traditional
Transitional
The Top Brands in the Furniture Industry
Studio J is Central Ohio's go-to for all types of furniture for the dining room, thanks to our wide selection of trusted brands. We carry pieces from some of the top furniture makers in the industry, and we're dedicated to bringing you no less than the best. Take your pick from these brands, among others:
Dedicated to Complete Customer Satisfaction
Whether you come to us for dining room storage options or upholstered chairs, rest assured that Studio J has the ideal pieces for your space. We're dedicated to each customer's complete satisfaction, no matter their needs. In addition to offering a wide selection of dining furniture, we also provide exceptional interior design services upon request. Our team works with clients in all phases of the design process, from the initial brainstorm through the final installation. Bring us your ideas, or lack thereof, and we'll create a design plan perfect for you and your family.
Start Designing Today
If you're interested in our dining room furniture or interior design services, don't hesitate to get in touch with Studio J. We're always glad to meet with new clients, whether they want to browse our furniture store or learn more about interior design. Don't settle for a less-than-perfect dining room—contact us today.