Skip to Content
Living Room Furniture in Central Ohio
Elevate Your Living Room with Studio J
Once your guests pass through the front door of your home, chances are they'll be first greeted by the living room. Because the living room is a focal point in most homes, it only makes sense to choose stylish, comfortable furniture. At Studio J, we offer the gold standard in home furnishings, and our team is glad to help you find the piece that matches your exact needs. Over the years, we've worked with many homeowners from across Central Ohio, creating exquisite designs that will remain stylish in the long run. Take a look at our living room furniture and learn more about our services.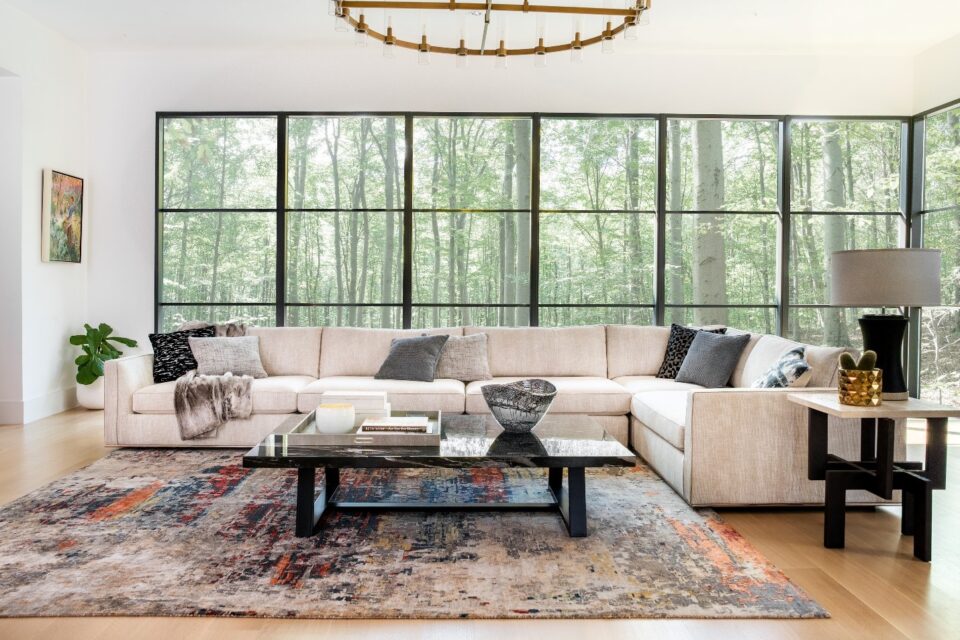 Take Your Pick from These Styles and More
Luxury living room furniture comes in all shapes, sizes, and styles. When you shop at Studio J, you'll be spoiled by choice. We carry pieces that evoke all the most popular styles, as well as niche aesthetics. Let us know which of these styles speaks to you most:
Traditional: Traditional furnishings are a popular choice for a lot of families in central Ohio. We have seen a big shift back to traditional furniture in the last few years at the furniture markets. We can help you find traditional pieces that stand out.
Transitional: Transitional design is a middle ground between traditional and modern. This type of design celebrates natural light and neutral tones. Transitional design is meant to be timeless and won't need many updates as the years go on.
Modern: Modern, sleek designs are in vogue for both homes and businesses. Black, white, and shades of gray are staples of this style, but don't be afraid to add a pop of color here and there!
Refresh, Redesign, or Renovate
There are three main occasions where you might consider new furniture: refreshing, redesigning, or renovating your space. If you're doing a lite refresh of your living room, you might take a look at our coffee tables or comfy accent chairs. But if you're looking to redesign your whole space, you might browse our selection of sofas, storage units, and wall décor. For those doing a complete redesign of their home, Studio J is happy to help you choose the perfect living room furniture. No matter the scope of your project, look to our seasoned team.
Discover Products from the Best Brands
Start thinking up living room furniture ideas today! Simply search through our catalog of trusted brands and begin envisioning your ideal living space. At Studio J, you'll have the chance to explore designs from all of these reputable companies:
The Benefits of High-Quality Design
Especially if you're shopping for living room furniture for small spaces, high-quality design is your best friend. Of course, working with seasoned interior designers will give you the aesthetic you're looking for, but that is far from the only advantage. Fantastic designs also take into account functionality and the lifespan of each piece. While it might be tempting to purchase your cheapest option, inexpensive furnishings won't last very long. At Studio J, we always recommend opting for high-quality design over quick fixes.
Contact Studio J Today
Whether you're in the market for small living room furniture or a massive sectional, Studio J is proud to be your partner in interior design. Our top-notch designers boast years of industry experience and would be honored to help you elevate your space. We'll learn more about your needs, wants, and aesthetics and then help you select quality furniture to make your vision a reality. Our team can provide as much (or as little) guidance as you need. Contact us today or stop by our Dublin, OH showroom.