Skip to Content
Outdoor Furniture in Central Ohio
Summer nights in Central Ohio are best spent outside. While you could grab a few lawn chairs and sit in the backyard, Studio J wants to help you make the most of your outdoor living space. Our showroom features several outdoor furniture sets that will complete your landscape. Whether you're an avid gardener or your backyard is relatively bare, we have something for you. Just stop by our Dublin location and start brainstorming with our friendly team!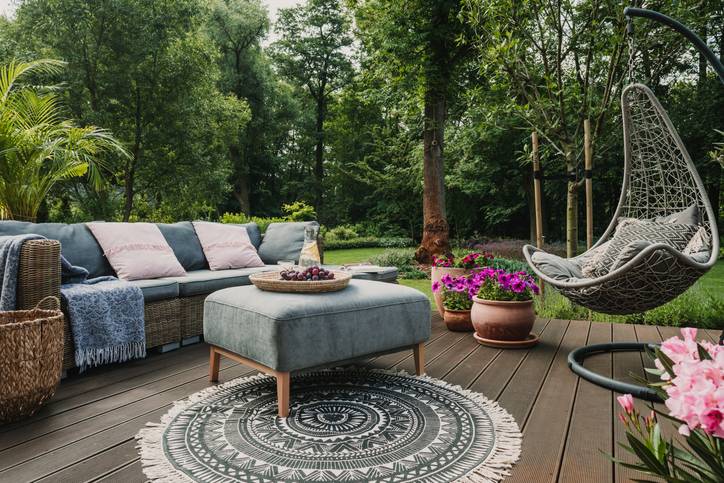 Shop These Types of Outdoor Furniture
At Studio J, we want to spoil you with choices. When you visit our showroom, you'll have the chance to browse a wide array of modern outdoor furniture. If you aren't sure where to start—no problem! Our interior design team is here to help you choose the best pieces to complete your front porch or backyard. Our inventory includes the following:
Chaise lounges
Dining tables and chairs
Porch rockers
Outdoor sofas, loveseats, and ottomans
End tables
Barstools
What to Consider When Buying Furniture Sets
Stepping into an outdoor furniture store can be overwhelming. While many choices can be a good thing, they can also cause unnecessary stress. At Studio J, we want your shopping experience to be as pleasant as possible. As you browse the aisles of our furniture store, keep these things in mind:
Durability: Ohio weather isn't always predictable, so it's important to choose outdoor furniture that can withstand the elements. We recommend going for quality pieces that will stand the test of time, even if they're more of an investment.
Style: What kind of aesthetic do you want your outdoor space to evoke? Be sure to pick pieces that reflect your personal style.
Maintenance: Some outdoor furniture needs more maintenance than you would expect. Make sure you know how much work a piece will require before buying.
Cost: You can't avoid it—the price tag is always an important part of home design. Set out a budget before you visit Studio J, and we'll make every effort to show you pieces that fall within your price range.
We Offer Much More Than Outdoor Furnishings
Our furniture offerings span almost the entire house. In addition to a selection of outdoor pieces, you'll also find plenty of furniture for your indoor living space. Whether you need a new sofa to accommodate the whole family or you're looking for a new dining table, we have something for you. Beyond shared living spaces, we also offer lots of furniture for the bedroom! If nothing in our showroom quite hits the spot, be sure to talk to our team about creating your very own custom furniture.
Why We're Trusted in Central Ohio
Over the years, Studio J has come to be a staple of the interior design industry in Central Ohio. We're known for top-quality designs, friendly staff, and plenty of furniture options. Our team is proud to have complete knowledge of industry standards and the best brands on the market today. No matter your experience with design, you can count on us to guide you. We've worked with countless homeowners over the years, some of whom know what they want and others who don't. Regardless of your interior design dreams, we're excited to work with you.
Contact Our Design Team Today
Create the outdoor living space you've always wanted with a little help from Studio J! Our experienced designers are excited to give you a backyard, patio, or porch fit for royalty. Just let us know your preferences and needs, and we'll point you to some of our favorite outdoor furniture. Check out our inventory for yourself—contact us or visit our Central Ohio showroom today!