Skip to Content
Bedroom Furniture in Central Ohio
The bedroom should be the coziest room in your house. Designing a relaxing bedroom can quickly become more stressful than it's worth. Fortunately, Central Ohio residents can look to Studio J for a wide range of modern bedroom furniture and top-tier interior design. We're a furniture store fully stocked with everything you need to turn your bedroom into an escape from the stressors of the day. Visit our showroom with a vision or an open mind, and our team will point you to some of our favorite pieces. Find out what Studio J has in store!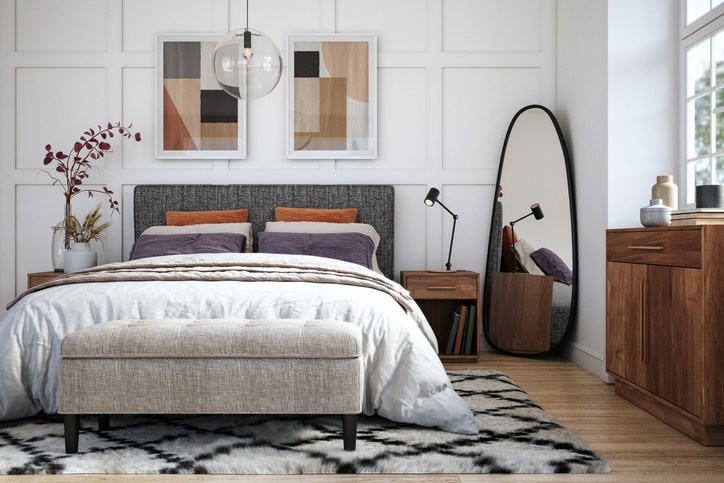 Types of Bedroom Furniture We Offer
There are lots of ways to make your bedroom both comfortable and beautiful. At Studio J, we're proud to offer outstanding interior design services to make your space really stand out. Our showroom features a wide variety of bedroom furniture to incorporate into your design, including:
Beds
Wardrobes
Chests
Nightstands
Headboards
Dressers
Mirrors and vanities
Seating
Keep These Things in Mind When Shopping
Step foot into any bedroom furniture store, and you'll quickly find that you're spoiled with many choices. Narrowing down your countless options can feel just as stressful as a long to-do list. When you keep a few things in mind during your shopping trip, you can cut the stress in half. Who knows, you might even find furniture shopping fun! Consider these factors as you browse the inventory at Studio J:
Aesthetic: Your bedroom should be a reflection of your personality! We recommend pieces that evoke some aspect of you—whether it's wall art, a rustic bed frame, or a luxury rug.
Lifespan: Most of us don't want to be buying new bedroom furniture every year. Opting for furnishings with high durability and a long lifespan.
Storage: Storage is a must for modern-day bedrooms. If you don't have lots of closet space, you might want to pick a bed with lots of room underneath or a wardrobe with racks to hang clothes.
Size: Always measure your space before buying anything. You definitely don't want to end up with a bed, dresser, or chest that's way too big for the room.
Budget: Of course, you always want to be mindful of the cost. Set a budget for yourself beforehand and keep track of your favorite pieces' prices. Only consider going over budget for a really special piece.
Shop Our Other Furniture
If your bedroom isn't the only space in your home that needs a little TLC, Studio J can help there as well. We stock an array of home furniture for all the most important rooms in the house. Be sure to check out our living and dining room options when you visit our Central Ohio showroom! If you can't find something that quite meets your aesthetic, talk to us about customized pieces. Our team would be happy to craft something brand new for your space.
Why Central Ohio Chooses Us
With so many places you could go to purchase a bedroom furniture set, why choose Studio J? For one, our inventory is chock-full of memorable, comfortable pieces. There's truly something for everyone within our walls, and our friendly design staff would love to help you find the perfect furnishing. Beyond just selling furniture, we also offer a wealth of interior design expertise. In fact, our founder, June Sedlak Mooney, has been featured in numerous publications over the years, thanks to her unique experience in the industry. When local homeowners need high-quality furniture and design services, they look to June and her team.
Get in Touch With Studio J Today
Studio J is excited to help you furnish your bedroom! We've helped customers design bedrooms small and large, and our team would be glad to kick off your design process. No matter your aesthetic or budget, our designers will work within your requirements to bring you the best bedroom possible. Contact us to learn more about our services or stop by our Central Ohio showroom.